Shamrock Springer Spaniels

DEDICATION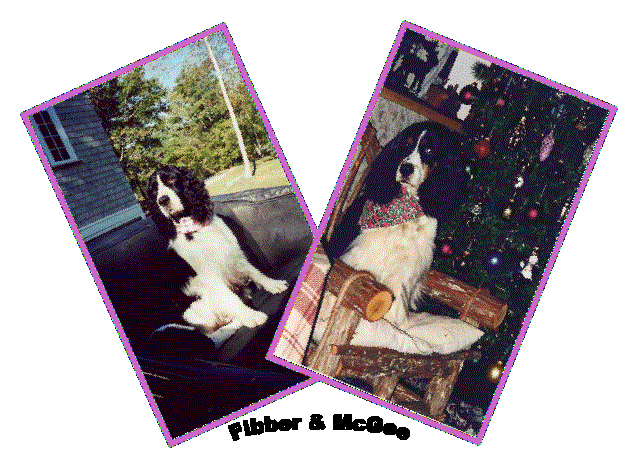 This site is dedicated to "Fibber" Snowspring Crownpiece and "McGee" Timberlee Ms. Molly McGee. These two dogs epitomize the Shamrock commitment. They were the foundation for Shamrock Springer Spaniels of present. They were 2 loving dedicated, extraordinary animals who taught me everything I needed to know about our breed, but more importantly about life and commitment.

THE SHAMROCK COMMITMENT


MY GOALS
Shamrock is dedicated to breeding English Springer Spaniels of outstanding temperament, health, and confirmation. Shamrock produces show puppies as well as pets who make loving companions.
MY INVESTMENT
My breeding stock is screened for the common hereditary problems. The hips are x-rayed for hip dysplasia and the eyes are examined yearly for hereditary eye disorders. No breeder has a crystal ball, and therefore cannot guarantee the lifetime health of the dog. I am doing everything I can to feel assured that my puppies will most likely be free of the common congenital disorders that are capable of being screened for. A healthy start is the best foundation for a puppy, and that begins with the health of the parents. I extend myself to give puppies the best care…even before they are born. Each of my puppies is examined by a veterinarian and sold with a health certificate. I also ask the customer to have their vet examine the puppy for their own satisfaction 72 hours after purchase.
AVAILABILITY
Since I breed only one or two litters a year (quality…not quantity!), there is sometimes a wait involved before a puppy is available. I have a waiting list and accept deposits to hold a puppy.
Massachusetts and New Hampshire State Laws require that puppies not be sold before they are 8 weeks old, and I feel these are very good laws. They prevent puppies from leaving before thy are properly weaned, socialized and vaccinated. I temperament test at 5 wks.of age, and again at 7 wks. in order to match the pup as closely to your lifestyle as possible. I will ship a puppy by air at your cost, however it is best when the pup is a bit older.



SHOW OR PET QUALITY?


You may wonder what distinguishes a pet quality puppy from a show quality pup. Very often the differences are very subtle and would only be detectable by a Springer expert. A distinction is made on a puppy who is the cream of an already superior crop. Each breed has a written "Standard of Perfection" and I breed according to the Springer Standard, which defines the ideal or perfect Springer. Puppies evaluated as show quality are those which most closely fit the ideals described in the breed standard, and influence the puppy's ability to be a loving companion. Puppies are typically
black and white, liver and white, and/or tri-colored English Springer Spaniels.
All litters are AKC registered and come with a pedigree.



YOUR RESPONSIBILITY


Puppies are sold to approved homes only. A requirement for any puppy is a fenced area of yard to serve as a safe play area and toilet area. Every day I hear from people who have had dogs hit by cars. This is a tragedy that can be avoided and I hope none of my puppies will ever meet such a senseless death.

In addition to the threat of cars, dogs are stolen, get into garbage/poisons, fall into inescapable places, animal traps, chase deer, etc. Unleashed is unloved!

I also require that all pets be spayed or neutered at 6 months of age since it prevents unwanted puppies and also provides health benefits. I also recommend crates as a training aid, and as a safe place for your puppy when you cannot supervise him/her.

Clients should also be aware of the grooming requirements, and be committed to frequent professional grooming (every 4–6 weeks).



HOW TO EVALUATE A BREEDER


The reputable breeder is like a head of a family. They feel responsibility toward the breed itself, toward the dogs they breed, the dogs they hope to breed, and additionally to all the people who have dogs of their breeding. They spend astounding amounts of time and money on matters they think are in the best interest of their breed.

It is this awareness of responsibility, combined with a sense of continuity, that marks the difference between the true breeder and a mere "puppy raiser". The breeder is an artist, motivated by a drive to create perfection; the puppy raisers and the dog dealers are motivated by the desire to make money. They are truly in the dog business, selling puppies like over-the-counter commodities to anyone who can pay the price.

The breeder is the link between the past and the future. They are well aware that they buyers of today may be the breeders of tomorrow, and do their best to educate those who come to buy their dogs, and to instill in them the ideals and values on which they have built their reputations.

Fortunate is the novice buyer who purchases their first dog from a reputable breeder! Whereas puppy raisers may sell whole litters to dog dealers, the breeder insists upon direct contact which those who buy their dogs, and sells only after most careful screening of a would-be-purchaser in order to ascertain the mutual suitability of dog and buyer.

While often not fully appreciated until the dog is bought, this screening by a breeder is the greatest protection a dog purchaser can have.

The puppy raisers and the dog dealers are often high-powered salespersons. They never ask questions—their only concern is to sell dogs, and often get them off their hands as soon as possible in order to avoid additional expense and work. Their interest ends when the sale is completed.

The attitude of the reputable breeder is very different. Though the cost of properly caring for their dogs may cause sleepless nights and untold worries, they will never let a single puppy or older dog leave for a home that is not as good or better than the one that is being provided. Even when the dog is sold, the breeder's help and advice does not end but continues throughout the dog's life.


THAT IS THE SHAMROCK COMMITMENT



NUTRITION


Your puppy and Dam were raised on Development Formula which is specifically formulated for lactation and gestation, and after care…hence the name. The Dams thrive on this diet during their last trimester and continue eating the formula until the pups begin eating solid food on their own. This diet has benefits that surpass any other therapeutic diet on the market. It has increased calcium and phosphorous to enhance bone growth, but progressive additions are the use of digestive aids. Fructo Oligo Saccharides are food for the bacteria and the G.I. system. They essentially help normalize the conditions in the puppy's belly and help avoid diarrhea, which is common in young pups. Enzymes are also added, and their job is to actually assist in the digestion process. I use this product because of the digestive aids, as fat is very hard for an immature puppy to digest. At 30% lower in fat, this diet is far superior due to the progressive research and development. At 4 weeks of age, the pups were gradually weaned, & transferred to Pro Plan growth formula which is another premium, completely balanced food that can be purchased at your local pet supply store, or at most veterinary hospitals. Pro Plan is an excellent product manufactured by Ralston Purina Co.; and is a Chicken & Rice based formulation. Your puppy has enjoyed this product since 4 weeks of age and should remain on it until at least 8 months. At that time, you may transfer him/her onto the adult formulation. There are several premium diets on the market should you choose to switch however it's imperative to keep your dogs' diet consistent. The option to feed a raw diet is also a healthy consideration.


Apples, carrots, peas and & green beans and other fruits and vegetables (except those listed below)
Sardines/Salmon: Good for Omega 3s & 6s / EFA (Essential Fatty Acids)
Cottage cheese or plain yogurt work nicely for a finicky eater as a healthy "mix-in".
Frozen raw or sterilized marrow bones. (Cooked bones will splinter and remove nutrients)

Always supervise your dog with bones, chew hooves, bully sticks etc. Choking is hazardous to their health!



Toxic/dangerous for your dog..

Chocolate (especially dark chocolate)
Caffeine
Grapes / Raisins
Onions
Macademia nuts / Walnuts
Mushrooms
Alcohol (of any kind)
Xylitol (sugar substitute)
Antifreeze (Dogs are attracted to its sweet scent and will cause seizures)
Ibuprofen (Motrin / Advil)
Chicken bones / any bones that will splinter
Rawhide (dogs tend to swallow large pieces that expand in the stomach and cause bloat)
Moldy and spoiled foods from fridge

Keep garbage in an enclosed area or out of their reach.


And most importantly, love your puppy by working with, training, and playing. Exercise/discipline & affection wil produce amazing results. Food is not the answer…attention is! Always remember: A TIRED DOG IS A GOOD DOG!!

Good luck and enjoy...& "Feel Good All Rover!"
I always welcome phone calls and emails.



Shamrock English Springer Spaniels


978-337-7721
888-460-4528

---


Home